So you just got a new Android? Finding apps for your new shiny device is no fun.The Market is growing like crazy and finding the best apps is getting harder everyday. With this guide you can try 10 free quality apps to get you started. All free of charge!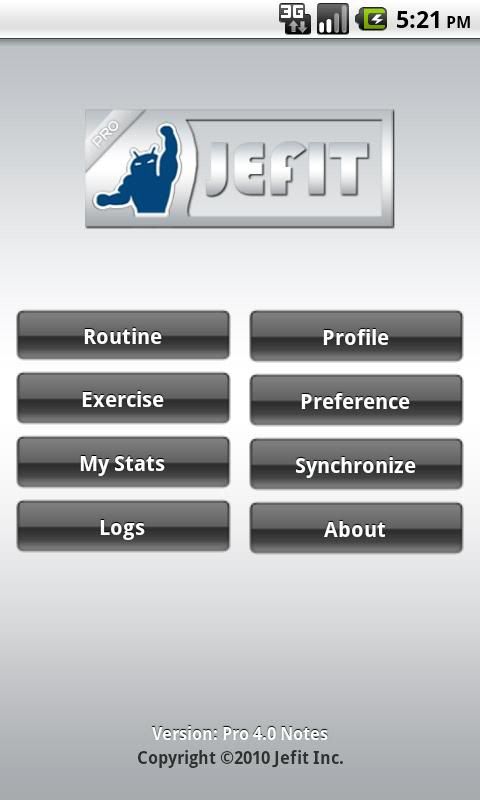 1. Jefit
Jefit is a professional work out app. If you want to get your body in shape this is the perfect app to help you setup a routine. It helps you keep record of your workout by syncing your logs to a free online profile provided by Jefit. You can set different goals and view your stats right from the app. Definitely worth checking it out if you like to exercise and stay in shape.

Highlights:

Charts for all exercises
Ability to take pictures of your progress and upload to server
Stopwatch included between exercises
Customizable target repetitions and sets
Easy to use UI with animations for all exercises. Including a detailed description.
2.
Memory Trainer
Memory Trainer helps you improve your memory with entertaining exercises that challenge you to memorize numbers, images, and color patterns. The levels keep getting harder as you work your way up.
The author describes it as following:
Begin training your spatial and working memory! Improve focus and concentration!It has been recently scientifically proven that regular mental exercise can
greatly improve your memory. This app has been designed to do just that! In
particular, Memory Trainer works out your spatial and working memory, focus, chunking and concentration skills.
Highlights:
Choose from different levels
repeat each session as many times as desired
See your progress
And best of all, improve your memory!
3.
JustPictures
The stock image viewer for android is ridiculously slow. JustPictures lets you browse your local pictures in a much faster way. A killing feature is the ability to view pictures from your online accounts from Picasa, Flickr, Smugmug, Facebook, Photobucket, Windows Live, Tumblr, Deviant Art, and Imgur. The UI is simple and fast! Definitely worth installing it.
Highlights:
Upload and batch upload to Picasa, Facebook, Flickr, Smugmug, Photobucket and Imgur
Multitouch capabilities
Exif Tags Access
Delete and Rotate Photos flawlessly
+ Many more advanced features
4.
Mobisle Notes
[Description from the author]
MobisleNotes "MobileNotes" is a simple and straight-forward notes / to-do app. It is designed with productivity and ubiquity in mind for easy note-taking on the go, letting you write simple as-you-go notes or checklists seamlessly.
Highlights:
Note reminders
Easily switch between plain text notes and checklist notes
Password protect your notes
5.
Picturen Lite
Picturen Lite is an image viewer good enough to replace your gallery. It is incredibly faster than the default Gallery app. The UI closely resembles the iPhone/iPod Touch pictures app.
Highlights:
Loads pictures quickly
Smooth scrolling
Pinch And Zoom, MultiTouch, and Single drag zooming
3 different themes to choose from
Easy access to share multiple images and albums
6.
Fooducate Grocerry Scanner
Excellent app to help you make healthy choices. A must have if you choose or want to eat nutritive and live a healthy life!
[Description from author]
Scan any product at the supermarket, see highlights & choose better alternatives
Scan and choose healthy groceries. Over 200,000 unique UPCs! As featured in USAToday, NYTimes, WSJ, Lifehacker, Gizmodo and on ABC, FOX, NBC and more...
Highlights:
See products good and bad highlights
View better alternatives
Easily scan a product barcode
7.
QuickMark QR Code Reader
Excellent barcode scanner. There are many but this is one of the fastest out there. It supports reading more than one barcode type, so you won't have to install multiple barcode scanners.
[Description from the Author]
QuickMark is a mobile barcode scanner app that allows auto-scanning of multiple barcode formats from your phone. (Quick Code, QR Code, Data Matrix, EAN 8/13, Code39, Code128)
Highlights:
Support for multiple barcodes
Easily change barcode reader mode
8.
Amazon MP3
Amazon MP3 is the cloud-based player by Amazon. It is also an excellent alternative to the default music player. It is fast and it features an easy and clean UI.
Highlights:
Lock-Screen Controls
Clean UI
Gesture Controls (Swype to change songs, tap to play/pause)
9.
RealPayer Beta
One of the best all-in-one media players for Android. The 1st thing you will notice about RealPlayer is its innovative UI to access anything with just a tap. Besides having a clean and powerful UI, it also have the ability to download videos when watching them on your browser. Be warned, is still in beta and I've found some bugs and sometimes it can be really slow!
Highlights:
Innovative UI
Clean and crisp graphics
Excellent video player
Landscape mode support!
Directory playback, Playlists support
10.
Drinks Master
If you have nothing to do and are willing to try something new, Drinks Master is for you. It features dozens of delicious recipes to prepare various style drinks from Cocktails to shots and non-alcoholic beverages.
Highlights:
Easy Instructions
Favorites Menu
Easy to use UI
Hundreds of Recipes
Various categories to choose from